It can be hard to find that perfect gift for the person who has everything, but artificial grass from SYNLawn South Carolina is guaranteed to make any home or business owner's holiday season in South Carolina more enjoyable. Most holiday gifts are opened and forgotten shortly afterward, but not artificial grass. The gift of artificial grass won't end up in the trash like a seasonal, light-up tie or the espresso machine only a pro would know how to operate. Instead, artificial grass is perfect for anyone that spends long hours working on their lawn and wishes they had more free time to appreciate it.
Artificial turf from SYNLawn South Carolina has multiple uses and is affordable enough to fit many people's holiday budgets. Read on if you want to learn more about why artificial grass makes the perfect gift for the holidays in communities across South Carolina.
Give Them the Gift of Time
Anyone who owns a traditional grass lawn understands the concept of futility. You wake up, and the lawn you neatly trimmed just a week before is overgrown. So each weekend, you mow it and then spend the next day watering it, ensuring it stays lush and green. With conventional grass, the only guarantee is that you will be working hard on it nearly every weekend. A constant need for upkeep like this is enough to turn anyone into a Grinch!
Fortunately, artificial grass looks and feels like the real thing! Best of all, synthetic turf stays lush and green all year long – no matter the weather conditions. It does not grow, so it never needs mowing, watering, trimming, or seeding. Artificial grass provides a perfectly manicured lawn day after day without ever having to lift a finger for more than some quick and easy cleaning.
To witness genuine excitement this holiday season, give that special someone the gift of synthetic turf! They will love sitting back and enjoying their luscious, low-maintenance yard every day of the year.
Artificial Grass Saves Countless Dollars
Any idea how much money your friend or loved one spends on taking care of their traditional grass lawn? They likely spend hundreds every year on their water bill to keep it growing and green. They also more than likely spend money on lawn maintenance equipment, such as a lawnmower, fuel, and other tools, or a landscaping service to keep their conventional grass trimmed. They may even hire people to come in and treat the grass with pesticides and herbicides from time to time.
Caring for a traditional grass lawn and all of its needs is expensive. However, you can help reduce those costs with the gift of artificial turf. The experts at SYNLawn South Carolina will work with you to find the perfect grass for their lawn. Once installed, the maintenance cost is almost nothing.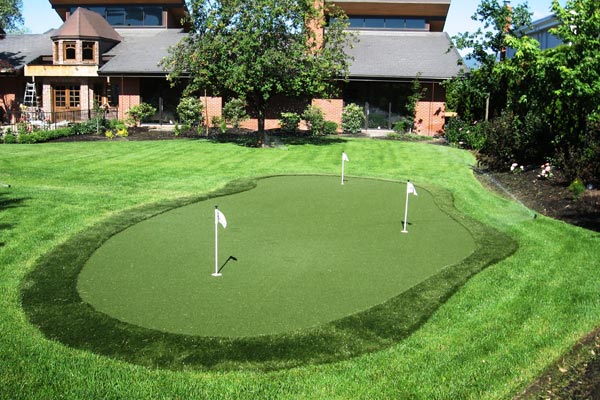 Imagine a gift that saves your friend or loved one money for years to come! They will love it, and our experts have the experience to help match the ideal artificial grass lawn for their needs.
Perfect For Golfers & Golf Enthusiasts
Artificial grass is not just for residential lawns or for looking at. SYNLawn South Carolina also creates beautiful artificial grass putting greens for backyard golfers and golf enthusiasts. With our synthetic golf turf, you can transform a loved one's backyard into a challenging artificial putting green course that helps them practice and improve their golf game.
Sadly, many golf lovers do not get to practice much or as much as they would like to. Playing on a public golf course can be a competitive and rushed environment. Plus, golfers are often forced to take the time to drive to and from the course and wait for their eventual tee time. Who has time for that?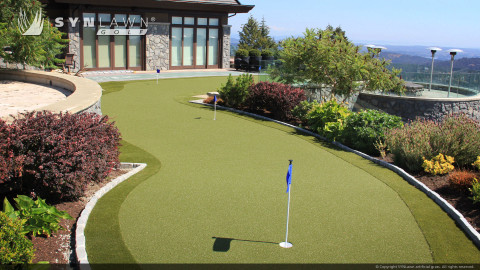 Artificial backyard putting greens provide golfers and golf enthusiasts a private place where they can take the time to practice or just enjoy the game. With a synthetic backyard putting green or short course, golfers can line up their shots and figure out how to best approach a hole without someone pressuring them to hurry up. Your loved one will love watching their handicap improve week after week with their friends not knowing how they do it.
If you're looking for the perfect gift for a golf lover, an artificial backyard putting green is an unforgettable option!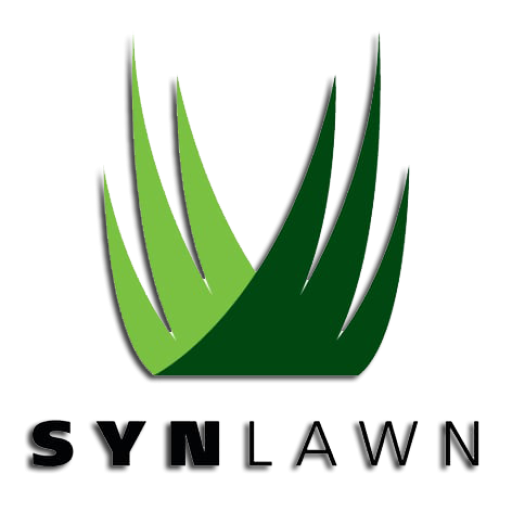 Contact Us for A Free Quote
Artificial grass from SYNLawn South Carolina is a stunning and cost-effective gift for any loved one in South Carolina this holiday season. Our synthetic turf looks beautiful and green year-round and requires little upkeep. Whether it is sports turf, playground turf, pet grass, or one of our other amazing products, our team can provide you with a free quote to help you decide if the gift is within your budget. So if you want to learn more about the many benefits of installing or gifting artificial grass, contact us today!