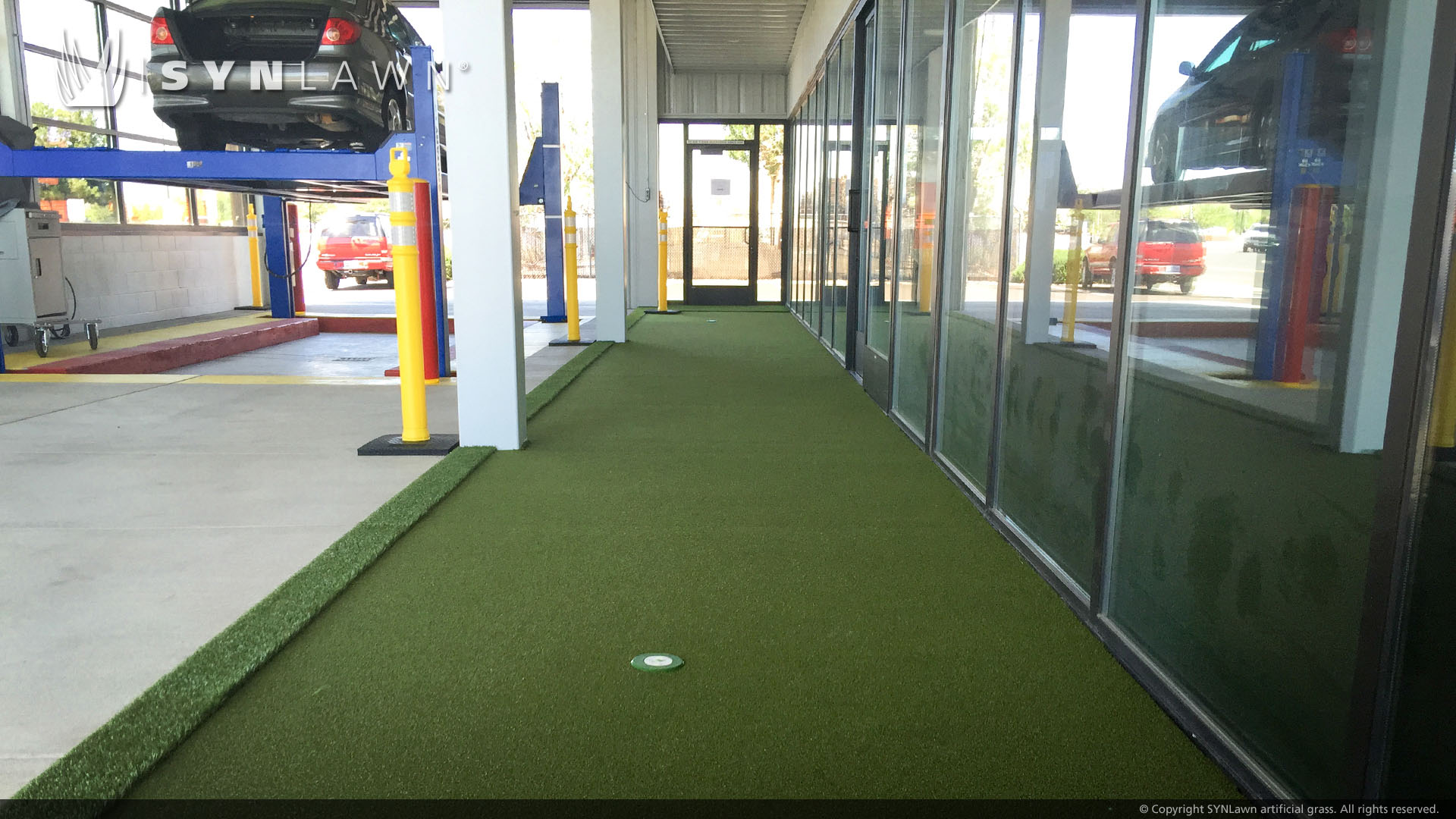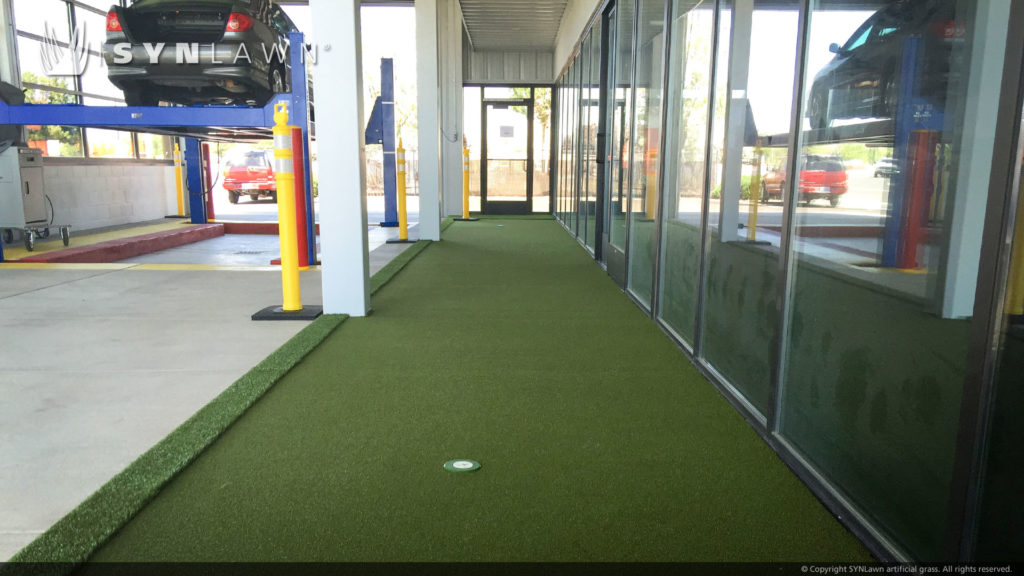 In an area like Sumter, South Carolina, with a lot of open spaces, having an artificial grass lawn that is easy to maintain and stays a luscious green, and always looks perfectly maintained, keeps your home or office landscape looking beautiful year-round. SYNLawn Carolina provides artificial grass that looks and feels perfectly natural. So you can easily turn a drab space into a gorgeous green landscape.
Whether you're looking to replace the lawn in your backyard, create a new green communal space, or install putting greens, SYNLawn Carolina aims to keep Sumter, South Carolina, looking green and beautiful by offering a variety of artificial turf options.
Benefits of Artificial Grass
There are many benefits to having artificial grass in your backyard. Besides enhancing the look of your landscape and keeping it green all year round, it provides a number of advantages.
Environmentally Friendly
Synthetic grass is environmentally friendly in several ways. For one, it lessens the impact on the environment by not needing to be treated with pesticides, fertilizers, weed killers, and other chemicals. Secondly, it doesn't require watering, which is great for water conservation efforts (not to mention lowering your water bill!). Finally, synthetic turf lasts for many years, meaning it can last a decade or longer before needing replacement. In other words, it is very efficient in terms of resources used.
Safe for Children
Artificial grass is safe for children as it does not contain any potentially toxic chemicals like weed killers or pesticides. Children can play on it safely, and many cities are opting for artificial fields and playground turf in public spaces for that very reason.
For children and adults with seasonal allergies, artificial grass spreads no allergens, so families can enjoy the day outside on the artificial grass lawn without sneezing or feeling uncomfortable from grass or weed allergens.
Excellent for Dogs & Pets
Synthetic lawns are an excellent option for dogs as well. Dogs love playing outside, but they can sometimes destroy natural grass when they feel excited or bored. Having pet turf for dogs can help curb those tendencies while also giving them a safe space to run and play around. It's not only great for dogs, but our synthetic pet grass is great for any animal.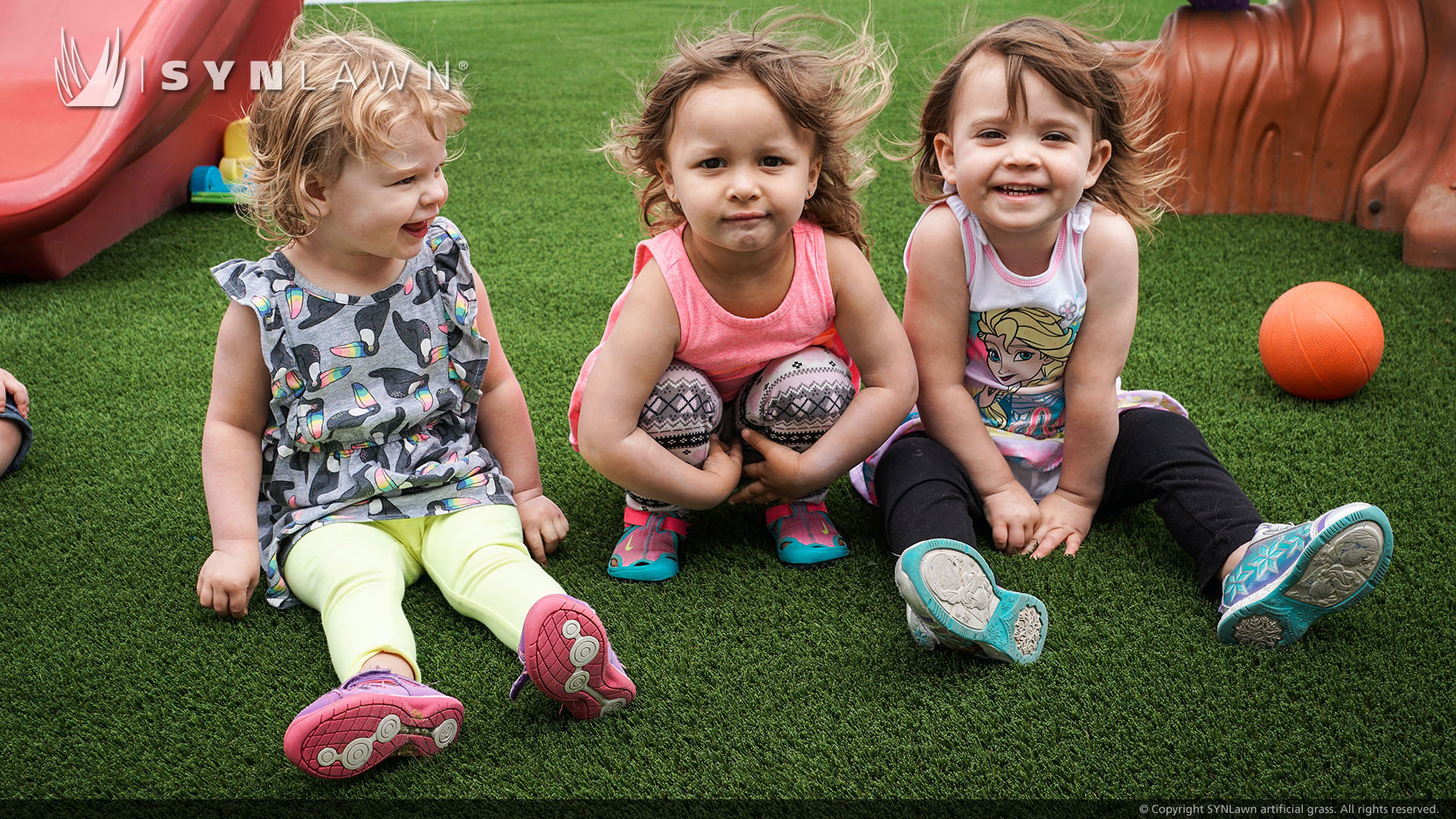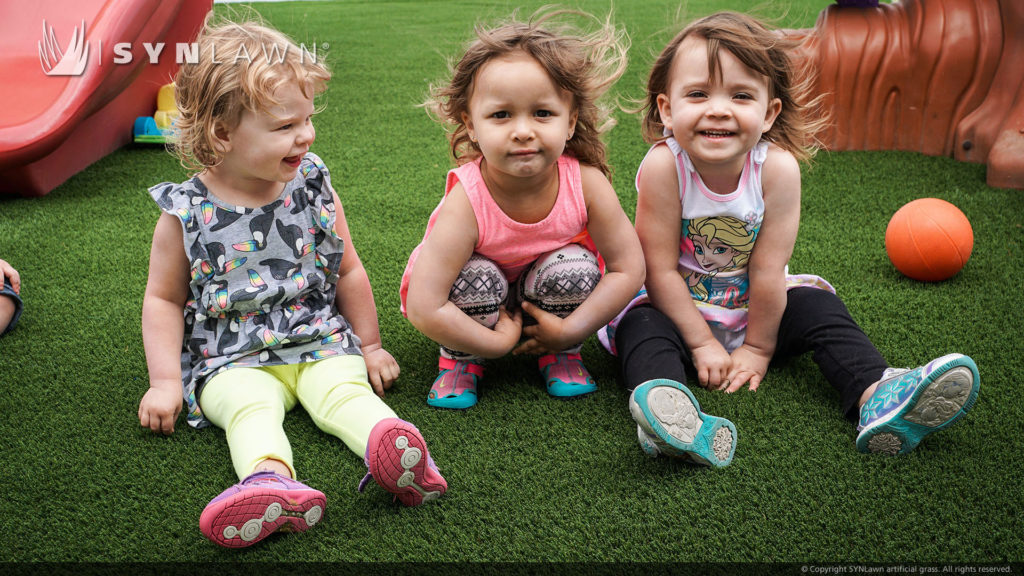 When your pet leaves a mess, all you need is some water and mild detergent to clean it. You can also be sure they won't track in mud after playing on artificial grass due to its ability to drain water after heavy rains quickly. Furthermore, given the strength and durability of the synthetic turf, your pet won't be able to dig holes in it or eat it.
Low Maintenance
Artificial grass is much easier to take care of than natural grass in terms of upkeep. There is no need to mow the lawn or spend an exorbitant amount of time pulling tons of weeds. To remove large debris, all you need to do is use a leaf blower, and a natural bristle broom can help straighten up the areas that are used most often. Artificial grass is also durable, withstanding wear and tear for many years.
Stays Clean & Durable
For areas that see a lot of foot traffic and harsh weather, artificial grass can keep your space looking pristine. On real grass lawns, bare and brown patches may form if certain areas don't receive enough water. In addition, heavy rainfall that drenches an area can create mud and tear up the grass, causing a big mess. With synthetic grass, your lawn will stay clean even after heavy rain and snow while blending in with the rest of your garden or backyard.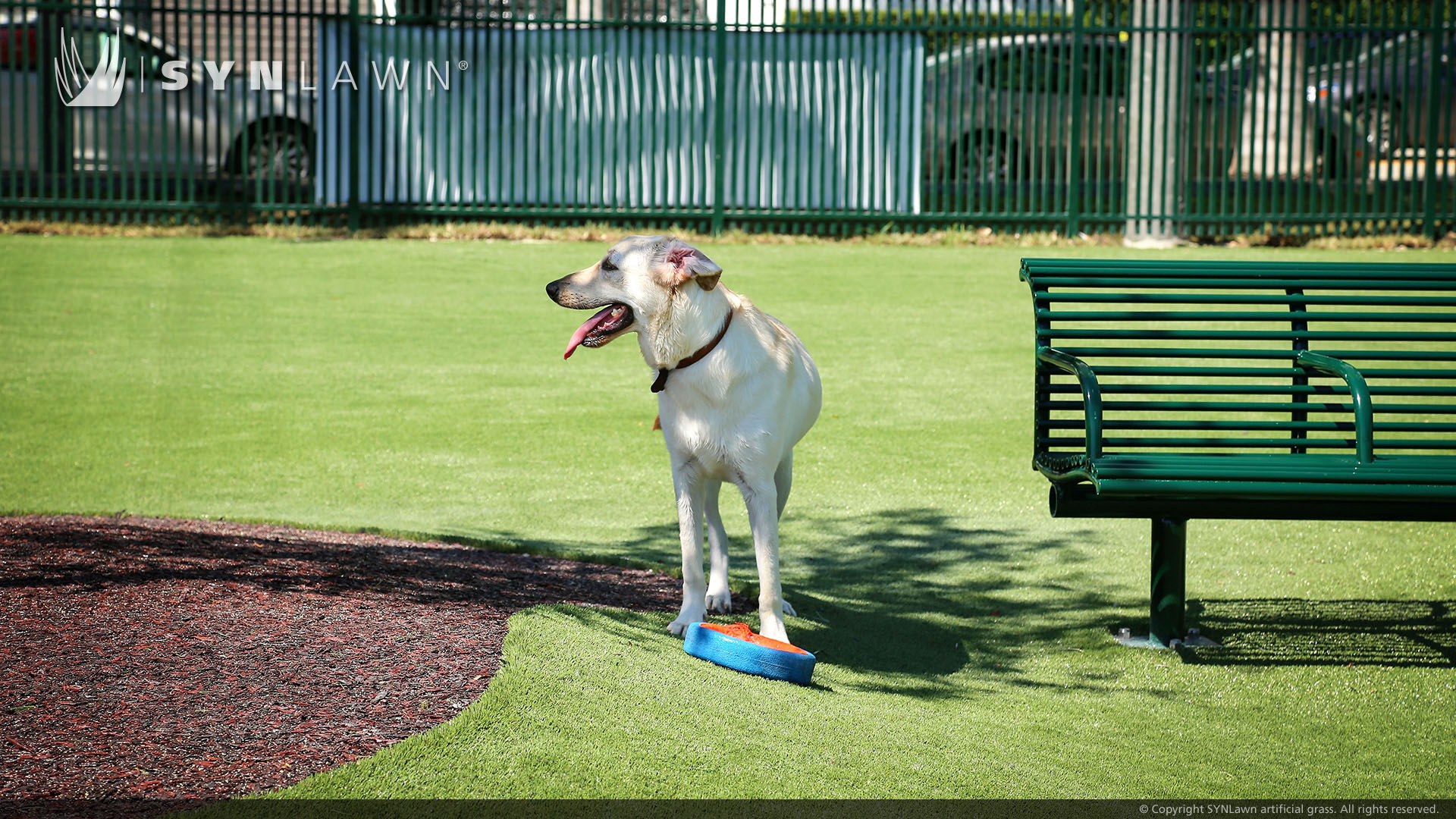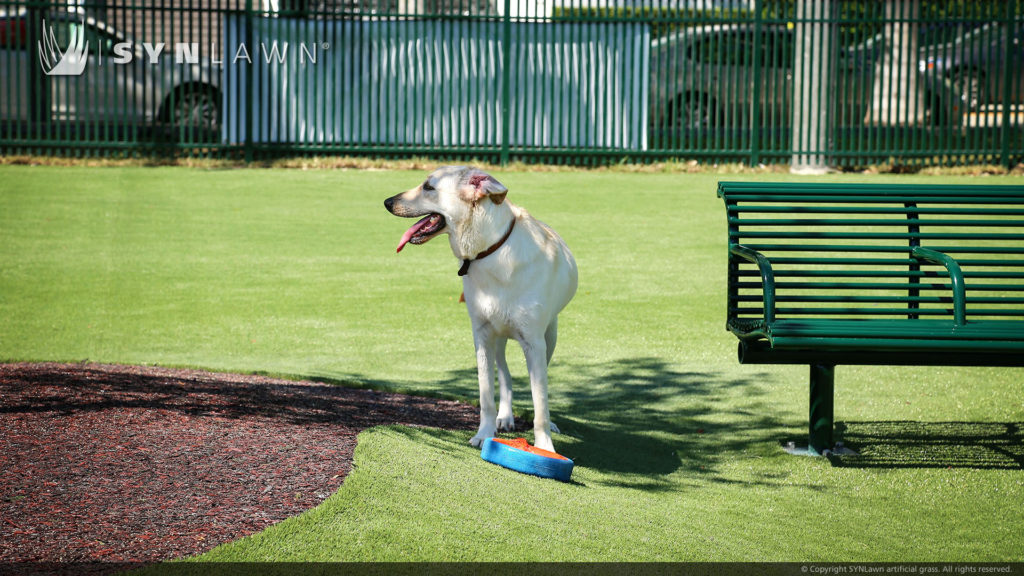 Overall, you save time and money when you invest in artificial grass. In addition, you and your family can enjoy playing or sitting on your lawn without any chemical help or heavy maintenance.
What Artificial Grass Can Be Used For
There are several turf options that you can choose to make your landscape look beautiful. Here are some of the different ways artificial grass can be used.
Residential Landscaping 
If you are looking for a safe, low-maintenance, and luscious-looking front lawn or backyard, we have plenty of artificial grass options for you. Our synthetic turf is made to always stay green and maintain a beautiful verdant look all year round.
Dog Turf
Pet grass and dog turf is a perfect solution if you want to create a safe outdoor area for your pets. Whether you're looking for dog grass or, more generally, pet grass for any animal, we can accommodate your needs. Your dog will highly enjoy running and playing on our artificial dog turf while not even being able to tell it isn't real grass!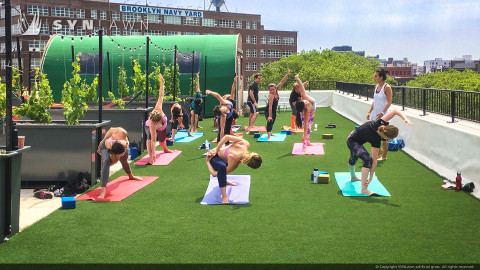 Community Spaces
As a safe and environmentally friendly alternative to natural grass, artificial grass keeps communal spaces looking vibrant and fresh in any type of weather and foot traffic. You can use commercial artificial grass for playgrounds, football or soccer fields, traffic medians, and other areas.
You can even use it to cover floors indoors since it does not require water or sun to maintain. Artificial grass is a great way to keep public parks and other communal areas looking beautiful and green.
Putting Greens & Golf Grass
You may not get to visit the driving range or golf course very often, especially when the weather is bad. However, installing your own golf grass and putting green indoors or outdoors can be a fantastic way to keep practicing your short game skills at home, regardless of the weather.
We have various options you can choose from, such as permanent putting surfaces and portable golf greens that you can take with you wherever you want to go.
Start with a Free Consultation
Our grass is engineered to feel and look just like natural grass, only without requiring all of the maintenance. So if you want to save money, conserve water, and create a beautiful green space that is safe for your family, SYNLawn South Carolina has the perfect artificial grass solution for you.
Request a free consultation by contacting us and learning more about how you can use artificial turf for your next project.