For decades, children in Charleston, SC have been using inherently unsafe playground equipment. This is largely due to the material used underneath the equipment. Unfortunately, the vast majority of playgrounds employ subpar materials that are sometimes more dangerous than simply falling on the ground outside.
If you're thinking about installing a playground in your backyard, you should highly consider artificial grass. Not only is it safer than most materials, but in many cases, it's also less expensive. Beyond that, aesthetically it looks better than most of the other safety surfaces beneath playgrounds. In addition to playgrounds, artificial turf is also ideal for putting greens and pet turf.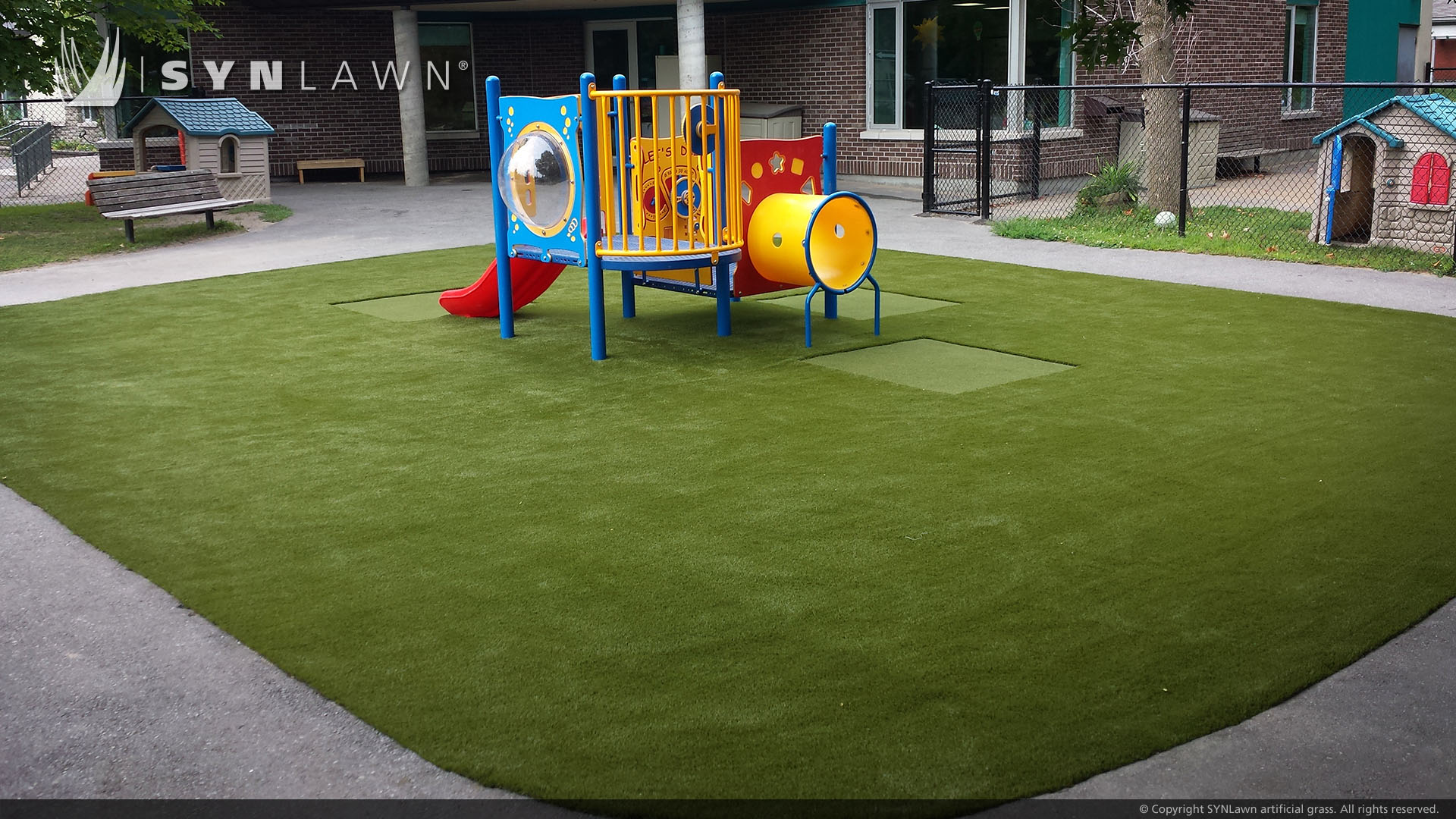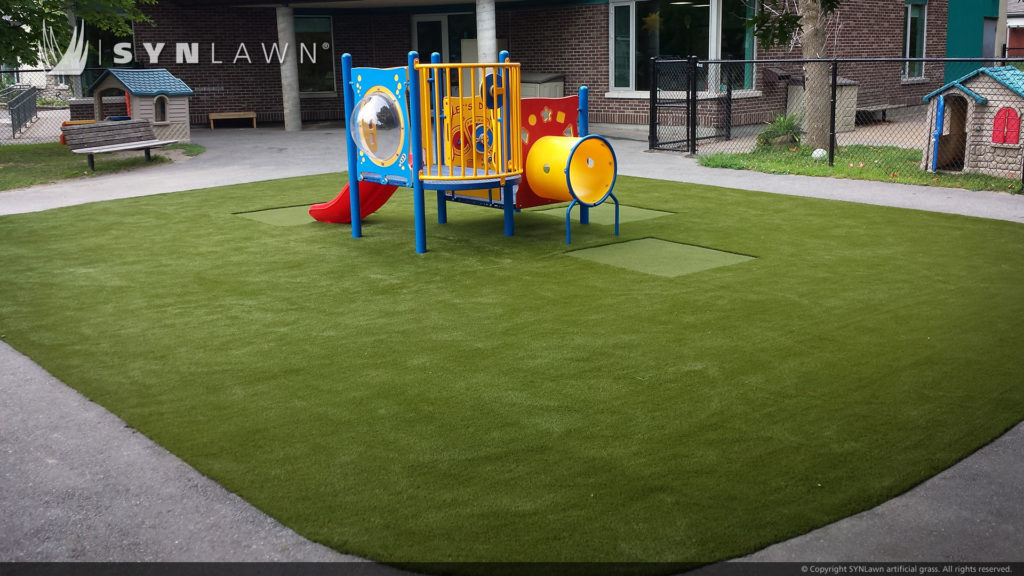 In this article, we'll define precisely why artificial grass is the best surface for your backyard playground in Charleston.
Artificial Grass Stays in Place
One of the main problems with playground surfaces like wood chips, rubber pieces, and gravel is that they are not durable. Heavy rain or intense foot traffic can cause these materials to get damaged over time.
Once the playground material is damaged, there are only two options – collect it or buy more. Managing all of the material is nearly an impossible task because you're never going to find every wood chip scattered throughout your lawn. Buying more is effective but also costly and time confusing, depending on how frequently you need to do so.
With artificial grass designed for kids and playgrounds, you don't have to worry about it being spread around. It stays put once installed, unlike traditional grass, which can easily become destroyed by severe weather or other occurrences.
Artificial Grass is Clean
Another problem with dirtier materials, or materials laid on top of the dirt, is that they get very messy. Wood chips and rubber become saturated quickly and stick to everything after even the slightest rainstorm.
The dirt underneath rubber pieces and gravel will get very muddy after a rainstorm and lead to puddles that can be messy or dangerous. The only way to prevent this with other materials is to buy a tarp and place it underneath. These tarps can be expensive, and you'll need to replace them every few years.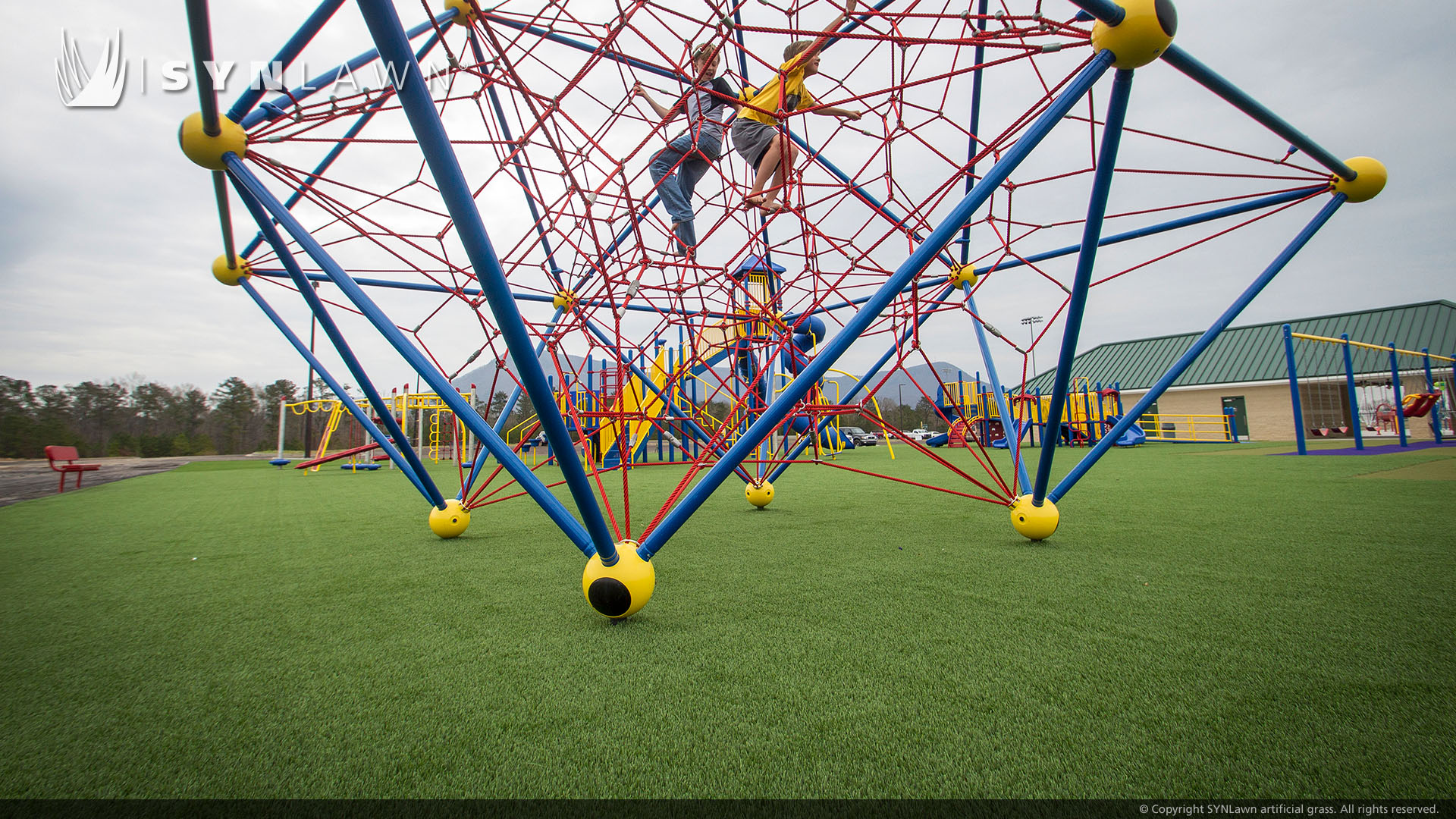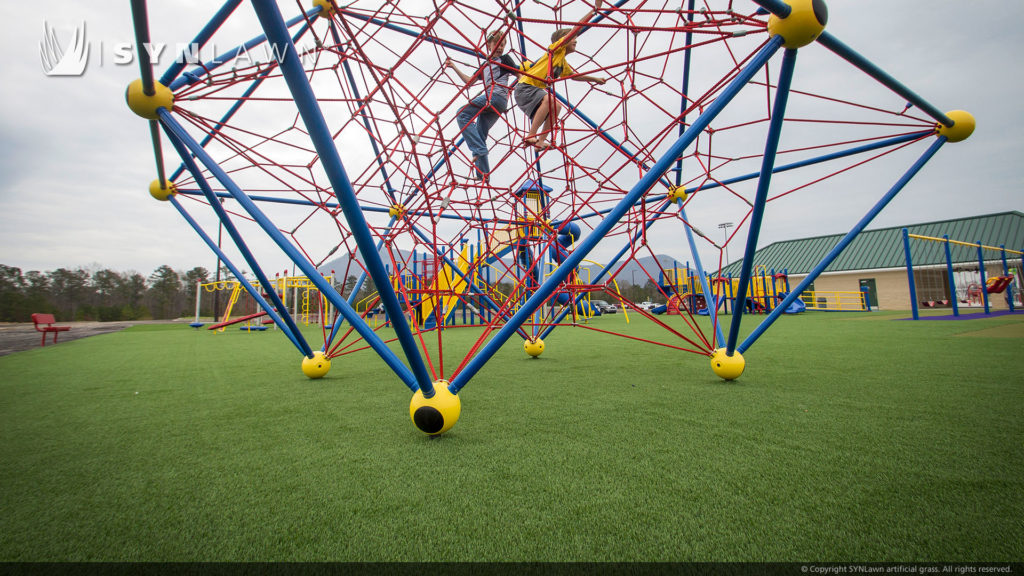 Artificial grass drains quickly and you can say goodbye to muddy footprints in the house. You can guarantee your kids will come back inside as clean as they were before they went outside to play.
Artificial Playground Grass is Safer
Most playground lining materials have similar effectiveness when it comes to protecting a fall. Unless you make the floor of your playground from asphalt or concrete, you can expect most of the shock from a fall to be absorbed and your child to get up unharmed.
However, artificial grass has a significant safety advantage over other materials in terms of running and playing. If your child slides on wood chips or gravel, they have a high chance of getting up with a cut or a scraped knee. Artificial grass is softer and has a lower chance of leaving marks.
Artificial Grass is Weather Resistant
Artificial grass is designed to survive all types of weather. In South Carolina we get our fair share of wet weather, however rain, sun, snow, or even hail won't cause significant damage to your artificial lawn. We cannot say the same for materials like wood chips, rubber pieces, and gravel.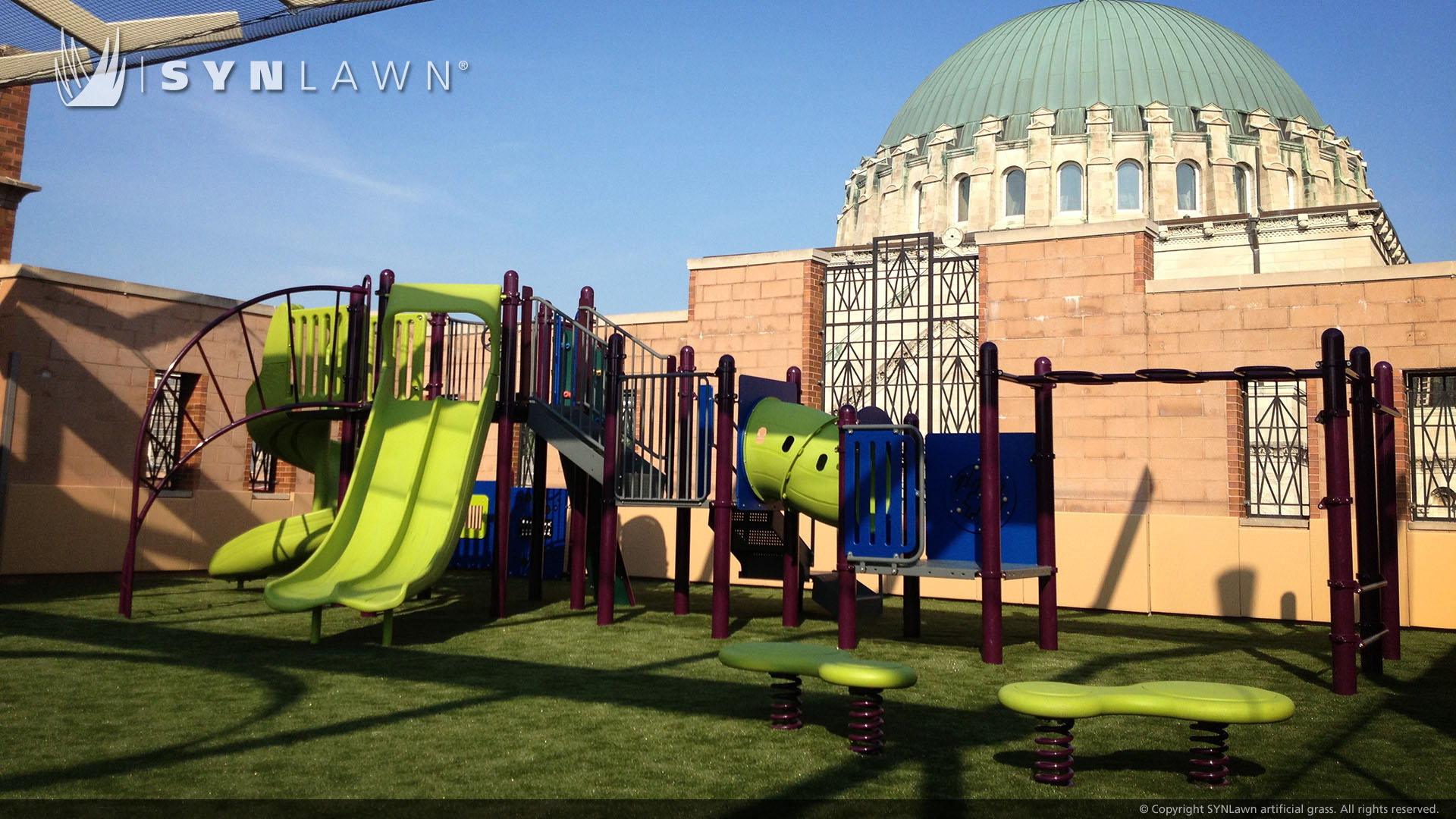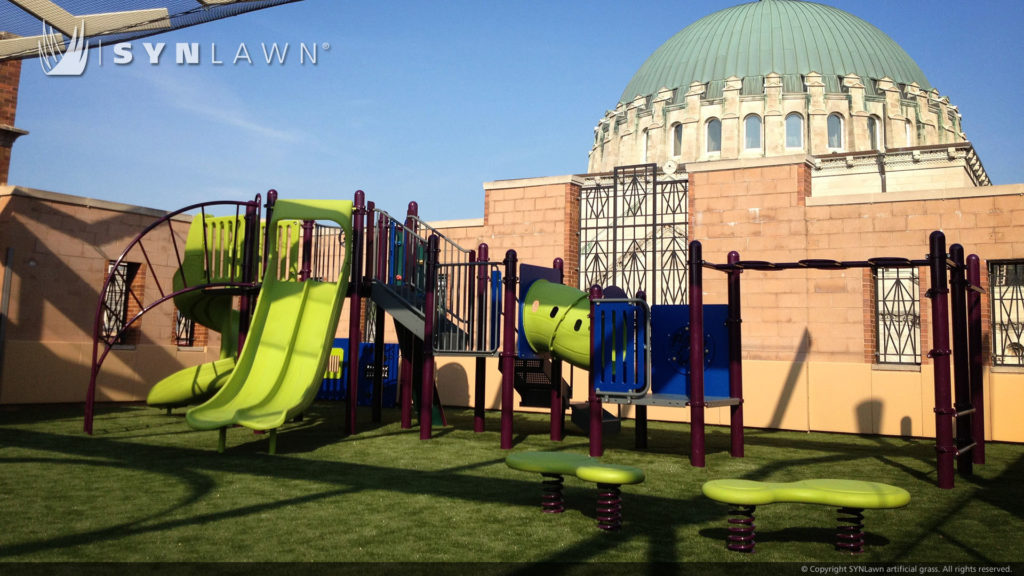 Wood chips can rot if they become moist too often. Strong winds can spread out all of these materials, and rubber pieces can even develop mold. A solid piece of rubber isn't very weather resistant either. It will fade and crack after prolonged exposure to the elements. Artificial grass stays neat and beautiful even in the worst of storms.
Artificial Grass Looks Beautiful
With all these other materials, there's only one visual appeal: the playground looking safe. Artificial grass allows you to keep your yard's appearance homogenous and aesthetically pleasing. It will also give the playground a more natural look.
Conclusion
In Charleston, SC installing artificial grass on your playground is one of the best decisions you can make for children to play outside safely. It won't need to be replaced as often; it's cleaner and safer than other materials and has a higher water resistance than traditional grass.
If you're ready to make the transition to a gorgeous artificial grass playground in Charleston, SC, contact us to get a free consultation.