There's no debating that artificial grass has revolutionized mini golf construction in South Carolina, and SYNLawn South Carolina is at the forefront of the movement. For decades, we've been the trusted choice for high-quality artificial mini golf construction in Columbia, Charleston, and throughout South Carolina. Our synthetic turf is hyper-realistic, durable, and remarkably eco-friendly. So it's no surprise that it has become popular with residential and commercial customers.
Mini golf courses have seen explosive growth since the COVID-19 lockdown. Played exclusively on the putting green, the game's goal is to score the fewest points. The turf consists of a geometric layout often marked by non-traditional putting lines and obstacles barriers of concrete, metal, or fiberglass. Overall, it preserves many of the common traits of regular golfing, and SYNLawn South Carolina can bring your design ideas to life.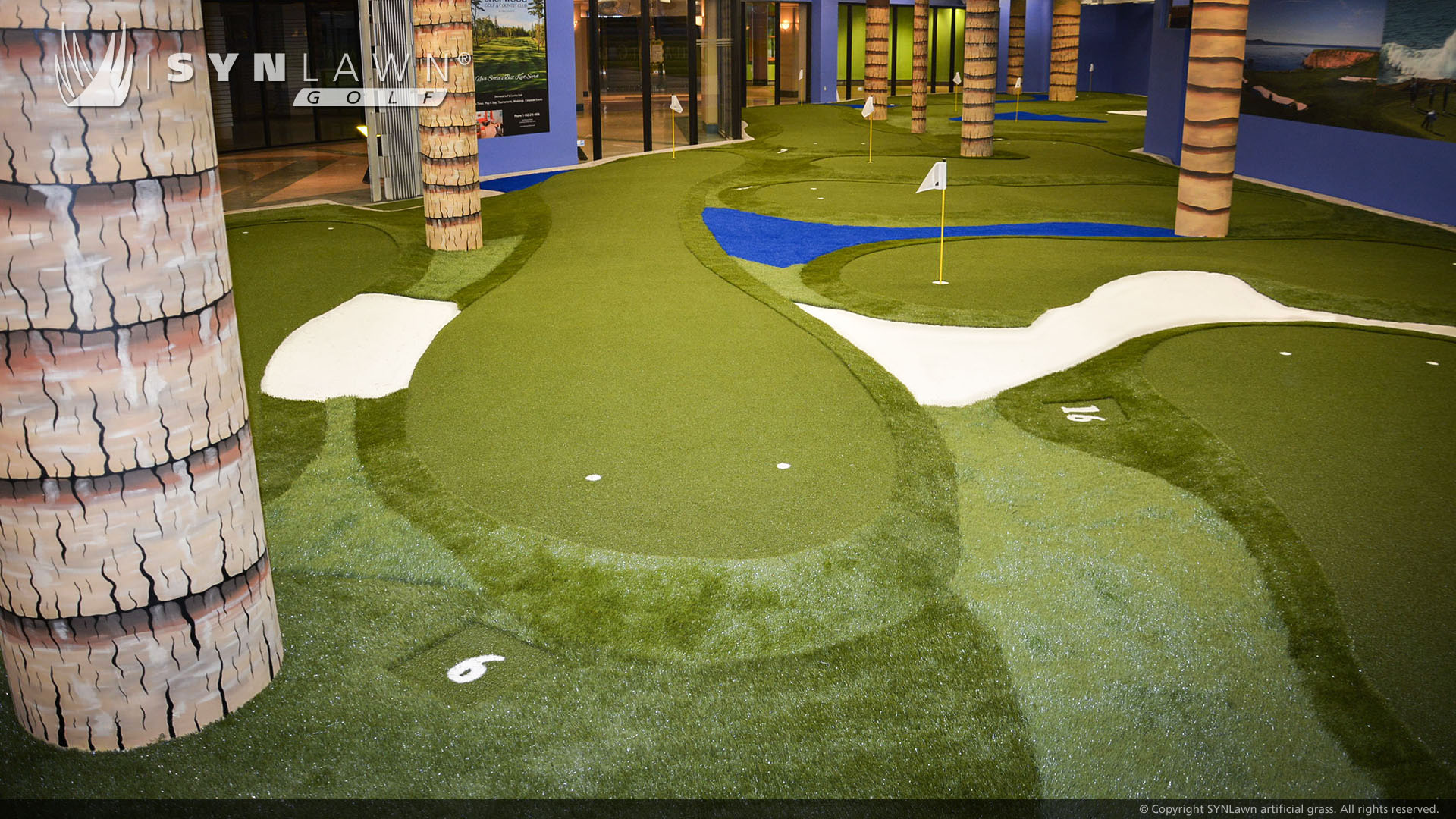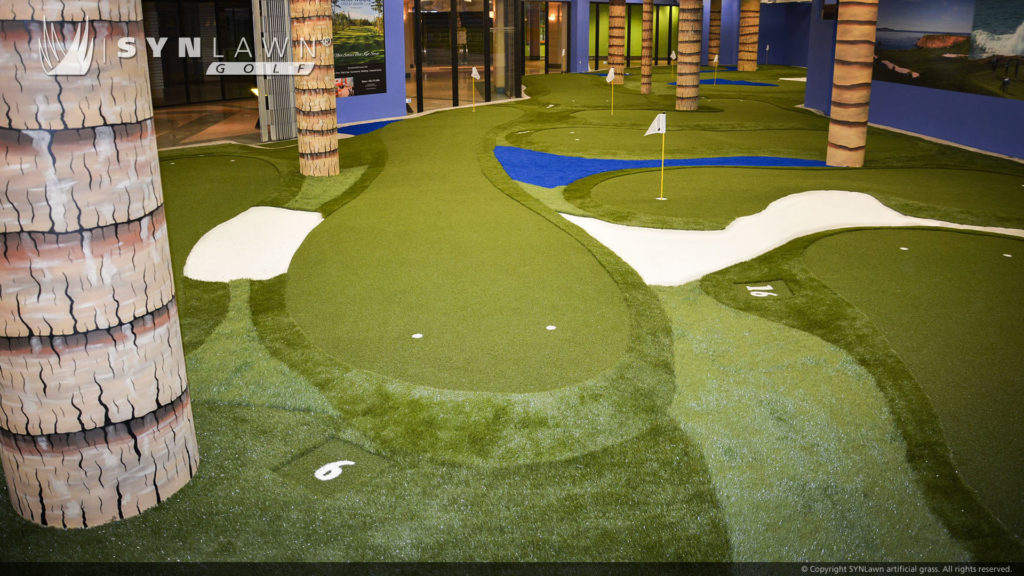 Why Artificial Grass for Mini Golf Courses?
During the COVID-19 lockdown, many golf courses were officially closed, necessitating a transition to backyard mini golf courses. As a result, players could practice and play their short game at the convenience and comfort of their homes.
It is a common golfer's dream to own and operate a golf course. SYNLawn South Carolina can get you close to that dream. Thanks to technological advances in synthetic turf manufacturing, we can install the highest quality artificial mini golf turf at incredibly competitive prices. Whether you're reimagining an existing course or want to create an entirely new one, SYNLawn has both the experience and expertise to make it happen.
Applications
Commercial Putting Greens
Artificial turf has become enormously popular in the commercial golfing environment. This is because it perfectly matches and exceeds the stringent PGA requirements for surface consistency and integrity. Need a turf that stays perfectly green throughout the year regardless of weather conditions or repetitive use? Try SYNLawn artificial grass for mini golf.
Our turf is incredibly resistant to both foot traffic and golf clubs. Furthermore, it requires relatively less maintenance than traditional grass. When it rains, the turf's outstanding drainage properties prevent the formation of water puddles, allowing it to be used almost immediately.

Benefits of Our Mini Golf Course Turf
Low Installation Costs
Installing a mini golf course in South Carolina is now easier than ever. Our streamlined production processes and innovative technology have enabled us to extend massive savings to our residential and commercial customers.
Low Maintenance
Golf turf requires a relatively high level of maintenance to sustain its exquisite appearance. Compared to traditional sod golf courses, our artificial mini golf courses are relatively low maintenance. Once installed, the turf does not require repetitive landscaping work such as lawn mowing, watering, irrigation, or even chemical use. Thanks to its synthetic qualities, our turf is perfectly immaculate all year round.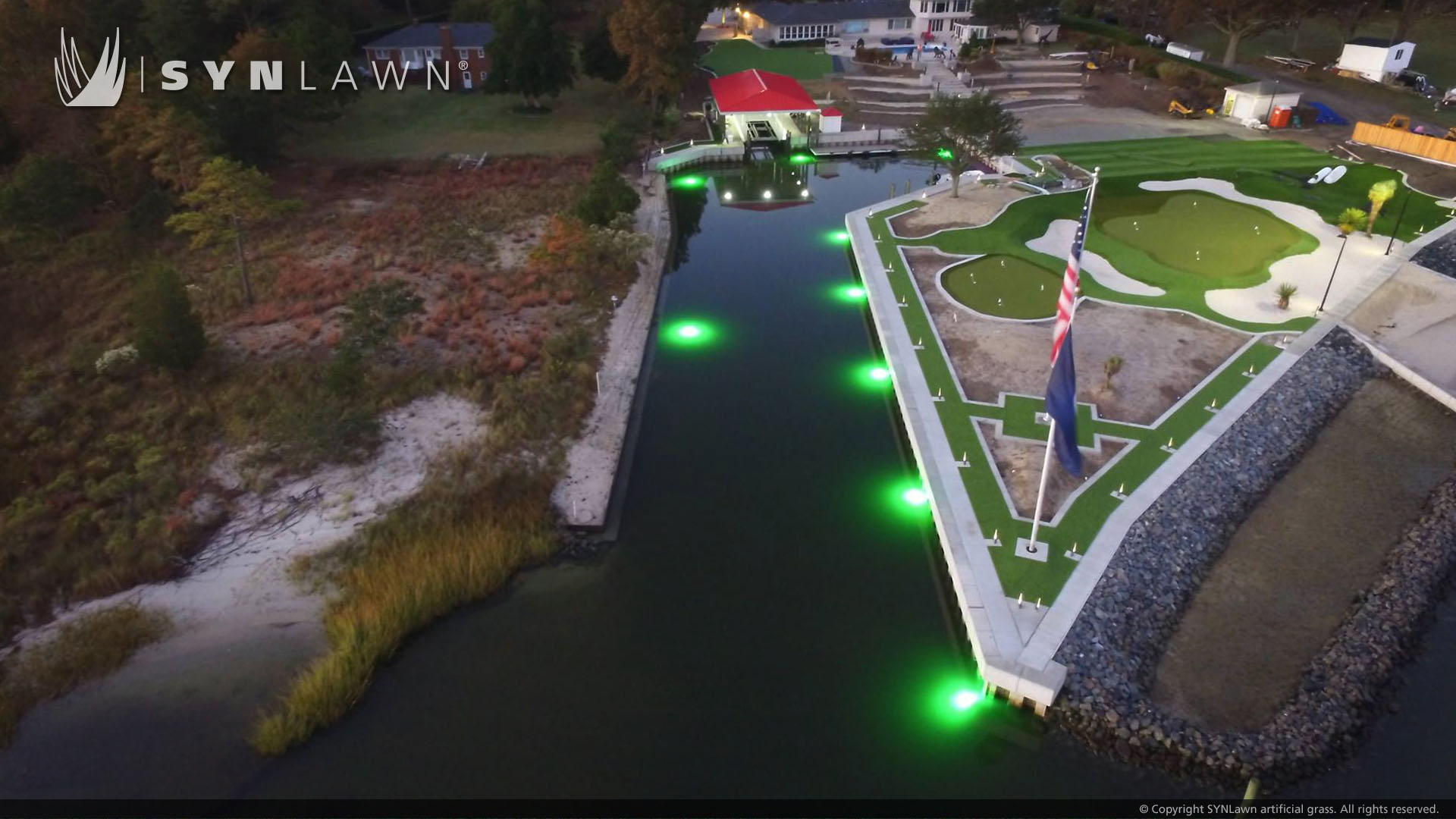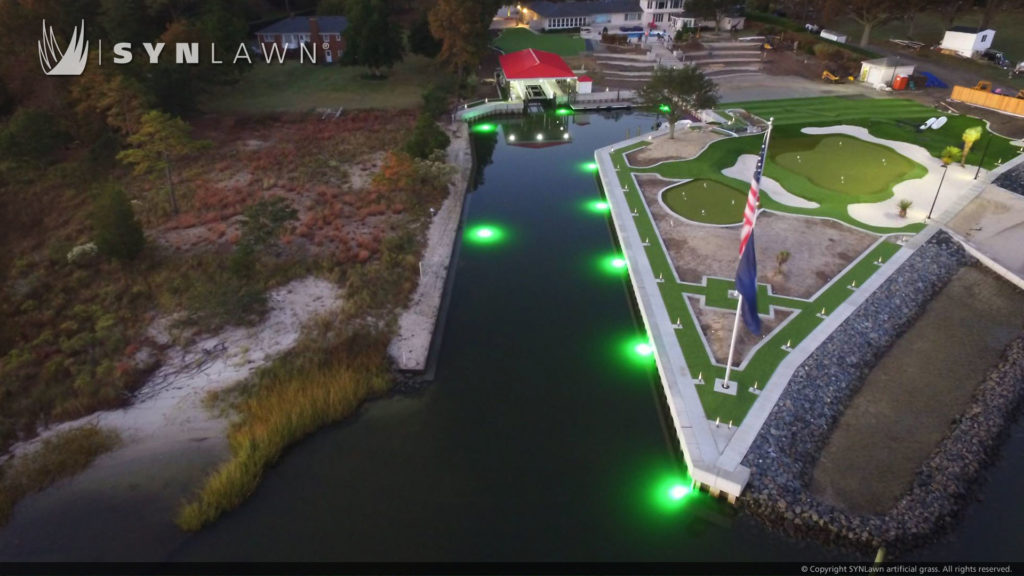 Conserves Water
Synthetic turf contributes significantly to water conservation thanks to its low maintenance requirements. This is vital for both the environment and the economy. According to the Environmental Protection Agency, the average home spends more than 60% of its total water budget on lawn maintenance, the great majority of which is wasted in the runoff. Switching to artificial turf eliminates these concerns because the turf never has to be watered save for the occasional rinsing to remove dirt and debris.
Highly Eco-friendly
Installing a mini golf course made with artificial grass is one of the best ways to contribute to environmental conservation. It's a fact that agricultural chemicals such as pesticides and fertilizers generate toxins that can eventually contaminate the soil, vegetation, and water systems. With artificial turf, these issues are largely eliminated. Even better, there is no landscaping equipment to contend with. This further alleviates the problem of carbon emissions into the atmosphere.
Contact Us to Schedule a Free Consultation
If you're ready to install your artificial mini-golf course in Columbia, Charleston, and throughout South Carolina, contact us today. We are an exclusive distributor of SYNLawn® synthetic turf products, which have set the industry standard for over four decades and fit well within the lifestyles of residents of South Carolina.