Calico Greens™ Artificial Green Walls
Indoor and outdoor synthetic plant wall installations in South Carolina

Calico Greens™ by Southeast Turf LLC/SYNLawn Carolina is the most popular options to create an artificial "living wall" for your business. Calico Greens™ features customizable, lifelike plant panels to create the illusion of a wall made entirely of plants. The plus side is there is virtually no maintenance necessary! The panel system allows for each section to blend seamlessly with the next, both in organic design and physical installation. It can also be installed both indoors and outdoors throughout South Carolina. Your design possibilities are nearly endless!
Calico Greens™ was designed to complement any space in any industry – instantly! Living walls add a pop of color and an element of nature to your waiting room, lobby or restaurant. SYNLawn's artificial living walls are easy to install, maintenance free and feature top-rated fire protection.
Artificial Green Walls
We are excited to be able to offer customized living walls to South Carolina businesses. Instantly achieve a modern focal point that guests and customers will love. A green makeover can breathe life into any interior, utilize under-used space and add a unique element to help your business stand out.
Artificial living wall installations are not only affordable, but eliminate the need for maintenance. Living walls with real plants are expensive to install and difficult to care for. To see our Calico Greens™ system for yourself, contact our team for samples!
Endless Design Possibilities
Calico Greens™ panels are extremely realistic in appearance and mimic the natural movement of real plants. Before installation, the paneled system is laid out by hand and assembled to ensure we achieve the most authentic appearance. Color box accessories allow you add more variety into your business and bring a unique look to the wall.
Calico Greens™ is the ideal solution for a variety of applications and businesses in South Carolina cities:
Condominiums
Accent Walls
European Spas
Wedding Venues
Privacy Screens
Pool Sides
Terraces
Grand Entryways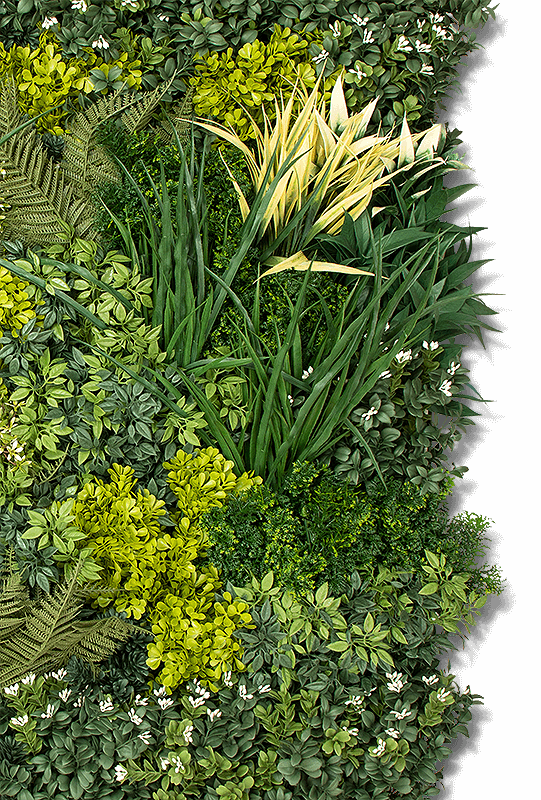 Experience the Calico Greens™ Difference
SYNLawn Carolina is excited to transform your space into something unique and eye-catching. A living wall offers both aesthetics and function, so it's no wonder why they are so popular throughout the Charleston and the surrounding areas. Learn more about the Calico Greens™ possibilities today. Contact us to schedule a design consultation!
Realistic plant colors, shading and movement
Certified UV-safe
Fire rated to industrial standards
Quick and easy installation process
Manufactured to ISO 9001 specifications
Ongoing product development
Award-winning horticultural designer
Patent pending system creates seamless look
Customizable with range of color boxes
Internationally tried and tested product
Enjoy your green wall within hours, not years!