Our artificial turf is a delight to play on
Children can jump and run on our synthetic turf to their heart's content. It is built to be pleasing to the touch rather than spiky or rough. Not only does our playground turf look just like real grass, it feels just like real grass! Besides being comfortable to the touch, our turf also comes with incredible cooling capabilities. So during hot summer months, children can still play in the hot sun without the turf overheating. Children will be able to crawl on the grass while playing with no issues. Our grass also has a fast drainage rate. So even after a major storm, the quick drain rate of our turf will have your lawn looking like nothing happened in a short time. With synthetic playground grass your kids won't have to wait indoors while your lawn dries out after a torrential rain, with our fast draining padded underlay there is no more standing water, or mud.
Synthetic playground turf from us is a cinch to take care of
What so many people appreciate about our playground turf is how simple it is to maintain. It will require only minimal effort on your part to take care of it, as its durability goes such a long way. Our artificial grass never needs to be watered, fertilized, or seeded. Any landscaping contracts or equipment you may have needed for your playground before will become a thing of the past. And after a brutal storm, natural grass would be greatly damaged, yet our turf will be looking like almost nothing happened due to its robustness and ability to drain rainwater fast. When it comes to our playground turf, you can pretty much have it installed, set and forget it, as it is made to last for many years and look its best.
Artificial playground turf keeps annoying and harmful insects away
Typically, insects want to be in regular grass, where there is dirt and edible things. However, with our playground grass being artificial, there really is no reason for insects to reside in it. They'd rather be somewhere else that is more hospitable. Fleas and ticks that could be found lurking in normal playground turf are far less likely to be in our synthetic grass. So any children playing can be safe and not be bothered while they have a great time adventuring.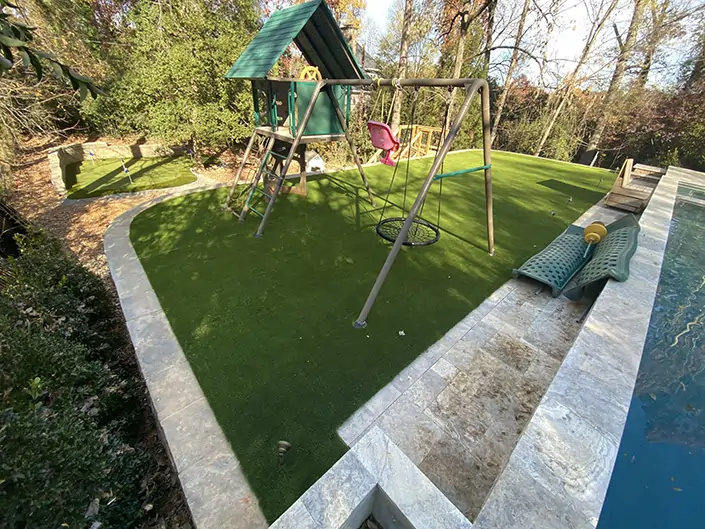 When you take advantage of our professional installation for synthetic playground turf in South Carolina, you get a number of benefits, including:
Hypoallergenic fibers
Drainage rate of 30 inches per hour
Temperature control and durability thanks to our Omega Technology
CSA-approved fall attenuation
Easy cleaning and maintenance
For areas that experience heavy foot traffic or see a lot of use, we recommend installing our easily replaceable TrampleZones™. TrampleZones™ help prevent fraying and are easy to swap out at any time to help keep your child safe no matter how often the playground is used. With such a convenient and safe system, it's no wonder parents and schools throughout South Carolina choose SYNLawn® products.
To get top-of-the-line artificial playground grass in South Carolina, call us at 844-941-2313 or contact us online today for a free consultation.