Project Location
Fort Mill Square, Fort Mill, SC, USA
Project Description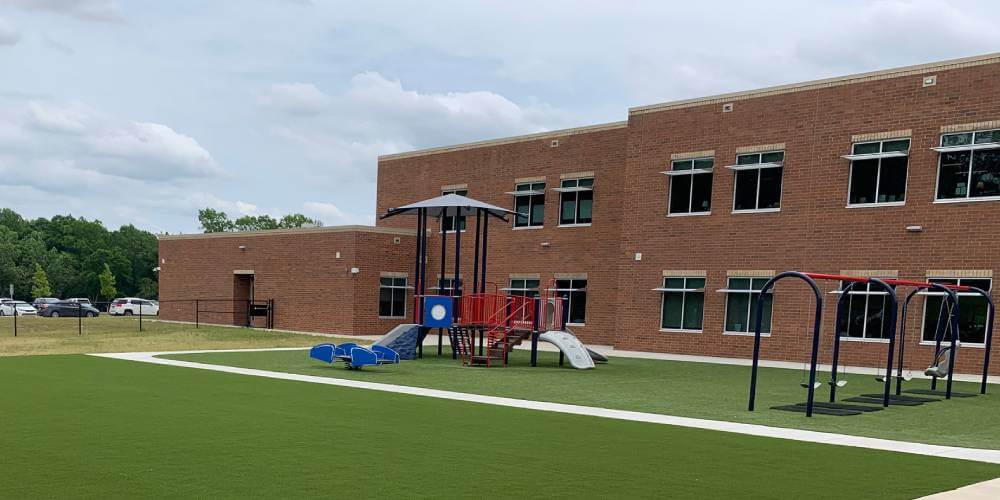 SYNLawn Carolina's is currently converting the School District of Fort Mill, South Carolina to SYNLawn Artificial Grass. SYNLawn Carolina has replaced nearly 150,000 square feet of natural playgrounds, courtyards, batting cages, and failing PIP Rubber to SYNLawn Artificial Grass to increase safety and functionality and the number is continuing to grow.
Who made the decision to select SYNLawn?
Scott Marks held several meetings with the School District's Head of Maintenance, Board of Education members, and Parent Teacher Organizations. These meetings were used to listen and understand the problems the Fort Mill School District was having with their existing areas, concerns they had around the use and environmental impacts of artificial grass, and plans for the outdoor spaces. After several months of discussions, plan revisions, and impactful work by Scott Marks, the members of the Fort Mill School District agreed to move forward with the use of SYNLawn and SYNLawn Carolina.
What factors helped the client select SYNLawn?
The members of the Fort Mill School District were driven to use SYNLawn's Artificial Grass Products for several reasons. One main concern the members had was the environmental impact and the ability of the product to hold up to the traffic and use it would see. Scott was able to explain SYNLawn's Bio-Based Plastic manufacturing process, SYNLawn's Super Yarn Technology, and SYNLawn's testing results for various applications all of which helped to ease those concerns. SYNLawn's Limited Lifetime Warranty was also a driving factor for the decision as the products see high traffic and use throughout the entire year. The Fort Mill School District's Head of Maintenance was more impressed with the level of Customer Service that he received from Scott and other members of SYNLawn Carolina. He stated "While the competition would take days, sometimes weeks, to respond to his inquires, Scott was always right there when it mattered most."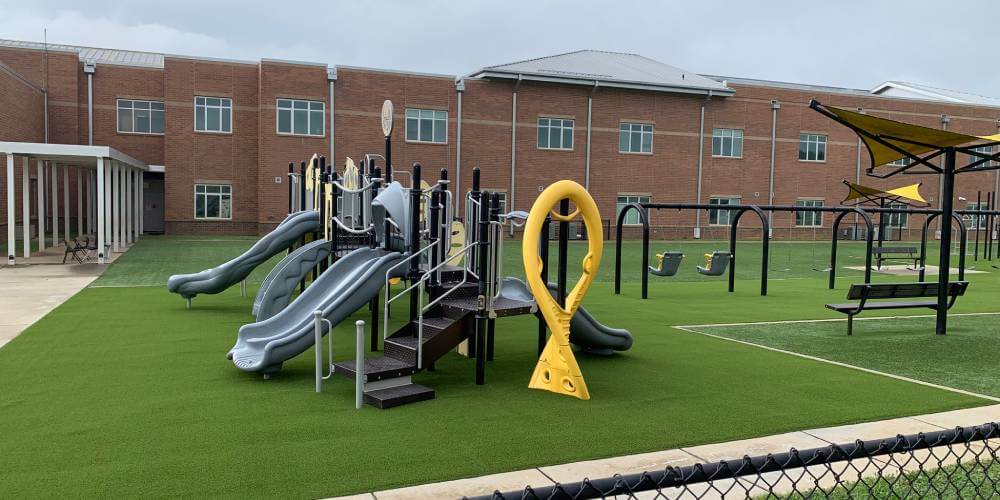 Who will be the greatest beneficiary of this project?
The students and their families of Fort Mill will be the main beneficiaries to the projects SYNLawn Carolina's is performing in the elementary, middle, and high schools in the district. These children are able to use these various facilities on a daily basis without the worry of mud, allergies, or other factors that would have previously prevented them from using them with natural grass.
Parents, Teachers, and School Facilities Team Members no longer have to worry about the students bringing in dirt, mud, mulch, dirt home or into the school like they previously had. They also don't have to worry about the safety of the students as they play on and enjoy the new playground turf, the old playground was previously seen as a hazard. The Fort Mill Community is now able to enjoy clean, green, and safe facilities all year round. Sometimes it seems the School District's Facilities and Maintenance team members enjoy the new artificial grass more than the students! They no longer have to worry about accessing enclosed courtyards, fenced playgrounds, or tight batting cages to cut, trim, or fertilize natural grass. Now, they enjoy the little to no maintenance that SYNLawn Artificial Grass gives them!
What circumstances, conditions or challenges were unique about this project?
This project came with its fair share of tough challenges and conditions. Each school we performed an installation at had a different layout, access points, and logistics that our installation teams had to adapt and problem-solve for while maintaining a very tight timeline. A good portion of the courtyards within the school system were enclosed with no exterior access. This meant that we had to work around the school schedule to perform these installations while students and staff were on breaks during the school year and the building was empty.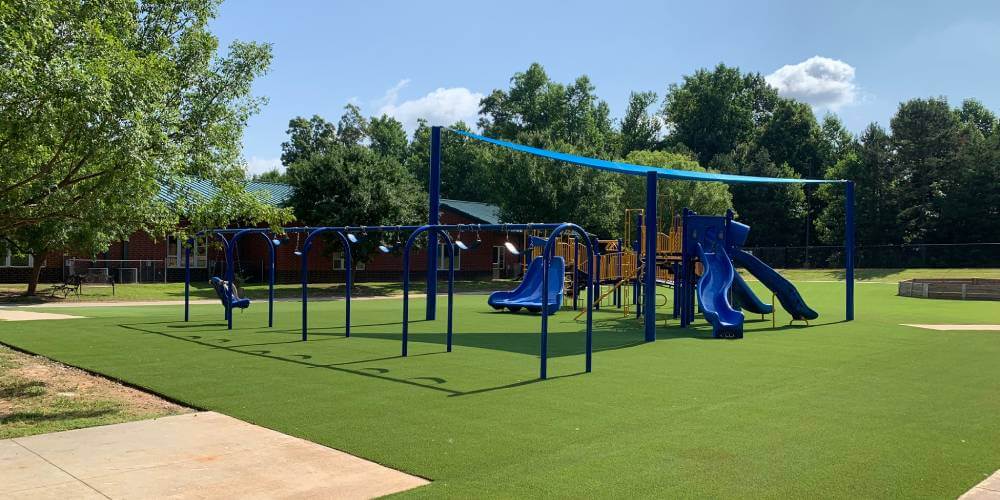 Our installation teams did an amazing job carefully using heavy equipment to excavate materials as well as bringing in new materials all while going through the school's hallways. We had little room for hiccups or unforeseen circumstances as the timeframe to complete the courtyards was concrete and couldn't be extended. While the playgrounds and batting cages were outside, they to came with their own set of challenges. Many of the access points to the playgrounds were directly of the main parking lots. This meant that the crews had to work around busy student pickup lines throughout the day as they couldn't block or impede the daily activities of the schools. This also meant that extra care and precaution had to be taken during installations as the students were often using the spaces within close proximity of the areas our crews were working in.
The biggest challenge for this entire project has been the timeframes set forth by the school district for the completion of the various projects while also maintaining a realistic timeline for new projects the Southeast Turf Sales Team was signing on a daily basis. The Fort Mill School District Projects often took 1or 2 of our 4 or 5 crews that we run on a weekly basis so that we could meet the deadlines for installation. So, we had to squeeze in 150,000 square feet of installation while juggling another 300,000-400,000 square feet on installations that we were responsible for across two different states. While the Southeast Turf Team made it work, it didn't come easily as our schedule wasn't constantly evolving to make up for lost time due to weather, material shortages, fuel shortages, and other unforeseen circumstances brought on by the COVID-19 Pandemic. As Scott said to me when the agreement was signed "In all my years doing this, I always thought the day an agreement like this came back signed would be the highlight of my year but to be honest with you, I'm scared to death of how we are going to make this work. But, I have faith that God will always have a way of making these things work out like they need too."
What makes this project unique and deserving of recognition?
The Fort Mill School District Project is going to help tens of thousands of students for years to come have clean, safe, reliable playgrounds and facilities. With the COVID-19 Pandemic really adding a damper to these student's learning experience, these added outdoor playgrounds and facilities give them an opportunity to get back to "life pre-COVID" for a period of time and allows them to just be kids again.
If you are interested in learning more about our playground turf for schools and other commercial applications, please call our friendly team of experts to get a free consultation today.