At SYNLawn South Carolina, our team of artificial grass craftsmen has created a number of magnificent artificial backyard putting greens for homes all across the state, including in Charleston, SC. Our advanced artificial golf grass and expertise in synthetic turf design and installation make our team the top choice for home putting green installation in South Carolina. We work with each of our clients to provide putting greens that suit your style and desires. In doing so, you gain a tailored backyard putting green that allows you to practice your short game whenever you like.
Take a look at some of our past creations and details on our backyard putting green installation services below:
Master Craftsmen From SYNLawn South Carolina to Design & Install Your Home Putting Green
The team here at SYNLawn South Carolina consists of several types of artificial grass experts. We employ a group of dedicated sales professionals as well as artificial golf grass designers and installers. In doing so, we offer all of the high-quality services necessary to supply, design, and install home putting greens, commercial putting greens, indoor putting greens, and even mini-golf courses in communities like Charleston, Columbia, and Greenville, SC. Our team members will work with you to produce the backyard putting green of your dreams, which will give you the space you need to practice, entertain guests, and spend time outdoors with your family.
Top-of-the-Line Artificial Golf Grass from SYNLawn
At SYNLawn South Carolina, we utilize and supply our clients in South Carolina with top-of-the-line SYNLawn artificial grass products. As a result, our many synthetic turf products, including our residential putting greens, are advanced in their specialization, highly realistic in look and feel, and made in the United States of America. This allows our low-maintenance artificial turf products to provide residential, commercial, and even municipal properties throughout South Carolina communities with durable, lush, and gorgeously green synthetic grass lawns, landscapes, and putting greens.
Recreate Your Favorite Putting Green in Your Own Charleston, SC Backyard
Golfers, like other athletes, often come to appreciate certain spaces and venues when it comes to their favorite game. Many of them will find that one of the 18 holes on their preferred golf course is their favorite. Some may even desire to have a replica of the putting green of their favorite hole in their own backyard. Luckily, at SYNLawn South Carolina, our team can help bring this dream to life! As long as your backyard has the space, we can design and install an artificial putting green that captures the look and feel of your favorite putting green from your favorite golf course.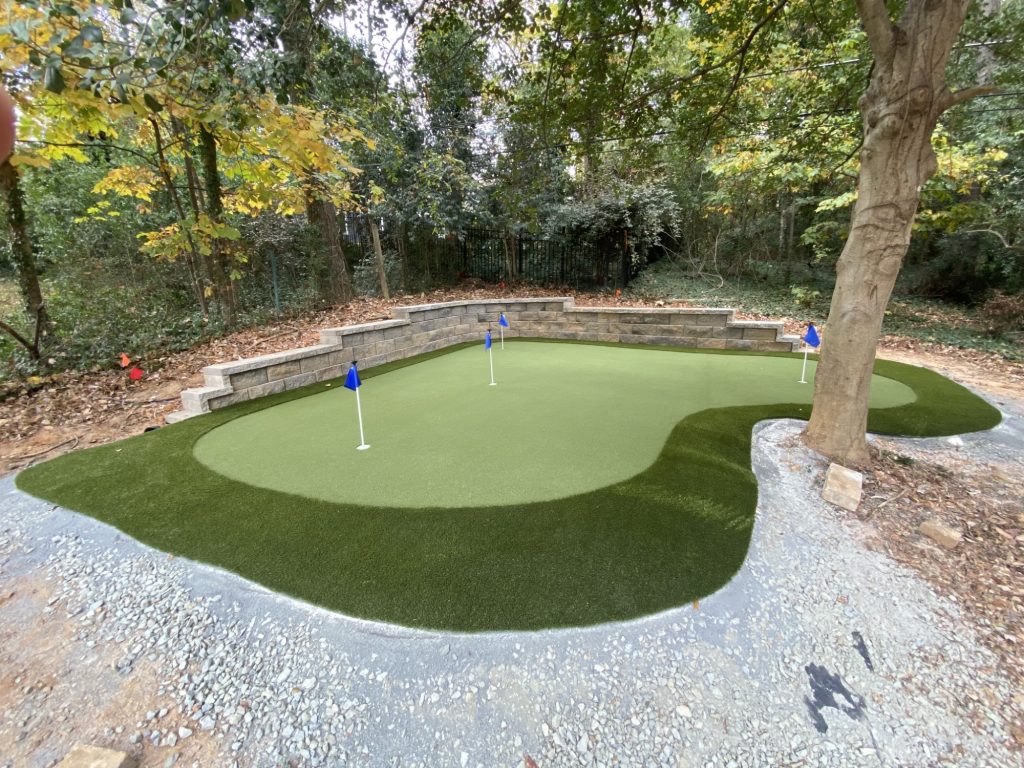 Practice Your Short Game Whenever You Like With a Home Putting Green Installation
With a synthetic backyard putting green installation for your South Carolina home, you gain an advantage over most other golfers: the ability to practice whenever you want! For most golfers, to practice their short game they must commute to a golf course or facility and wait for their tee time. This can be time-consuming and limit your options for practicing.
Yet, with an artificial putting green in your own backyard, practicing is as easy as grabbing your favorite putter and a golf ball and walking out your backdoor. You can practice in the morning, on a lunch break, after coming home from work, when you have trouble sleeping, or on the weekends with family. Best of all, our synthetic golf grass requires little maintenance, so you can spend your time with your home putting green practicing and not focusing on upkeep.
Get a Free Estimate for a Backyard Putting Green Installation Today
At SYNLawn South Carolina, our team of artificial grass craftsmen design and install stunning backyard putting greens for homes in Charleston, South Carolina. Visually our completed installations speak for themselves. They capture the attractive greenery golfers expect and provide them with a convenient means to practice their favorite game. If you are interested in adding an artificial putting green to your home, contact us today! Our team can help bring your backyard putting green dream to life!